A growing number of patients want a more natural and holistic approach to healthcare and the medical community is note the benefits and successes of Chinese medicine. More and more medical professionals recognise how Chinese medicine can benefit their patients and are combining a Chinese and Western medical approach to enhance their practice and be able to use the best of both medical systems to treat patients with the most appropriate methods for their individual conditions.
CMIR is dedicated to the modernisation of Chinese medicine and its proper integration into conventional mainstream medical practice. We promote clinical excellence in Chinese medicine and acupuncture by providing high standard educational courses for medical professionals who wish to study Chinese medicine and maintaining a register of properly qualified practitioners. We aim to raise public awareness of the benefits and development of Chinese medicine and improve clinical standards to ensure its safety and effectiveness on a global scale.
Who can join CMIR?
CMIR accredited membership is open to:
Qualified medical doctors and healthcare professionals, who have completed a degree or diploma in Chinese medicine and acupuncture from a recognised professional training institution, for example the CMIR Postgraduate Diploma in Chinese Medicine and Acupuncture
Chinese medical doctors, who have completed a degree from an accredited Chinese medical university in China, such as Beijing University of Chinese Medicine
There are also categories for specialist, associate and student membership.
Click here to read about all membership categories.
Click here to download the CMIR Membership Application Form.
For more information about CMIR membership, please call 0207 388 6704 or click here to send us an email.
What are the Benefits of CMIR Membership?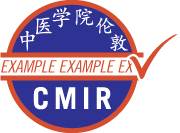 Accredited CMIR members have access to a huge range of benefits, from use of the CMIR membership seal, automatic membership of the British Acupuncture Federation, and access to the BAF discounted insurance scheme, to discounts on the CPD and specialist training programmes and on purchases at the AcuMedic Professional Shop. Read all of the benefits listed below. For the benefits of other memberships, please click here to contact us.